Booker Prize Predictions
25/07/2011
The Man Booker longlist will be announced tomorrow. The Omnivore turns literary tipster as we try to predict who's in the running for this year's prize…
(Click on the title to read our review roundups.)
Old guard
THE STRANGER'S CHILD by Alan Hollinghurst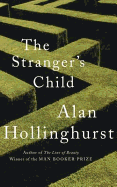 Alan Hollinghurst won the 2004 Booker Prize with The Line of Beauty. His latest novel has had (mostly) excellent reviews, and he looks set to make the longlist at the very least.
THE FORGOTTEN WALTZ by Anne Enright (won 2007, The Gathering)
LAST MAN IN TOWER by Aravind Adiga (won 2008, The White Tiger)
WISH YOU WERE HERE by Graham Swift (won 1996, Last Orders)
.
Booker bridesmaids
THERE BUT FOR THE by Ali Smith
Ali Smith has narrowly missed out twice, being shortlisted in 2001 for and in 2005 for The Accidental. Could it be third time lucky?
KING OF THE BADGERS by Philip Hensher (shortlisted 2008, The Northern Clemency)
ON CANAAN'S SIDE by Sebastian Barry (shortlisted 2008, The Secret Scripture)
WE HAD IT SO GOOD by Linda Grant (shortlisted 2008, The Clothes on Their Backs)
THE SENSE OF AN ENDING by Julian Barnes (shortlisted 1984, Flaubert's Parrot)
.
Young pretenders
Will sci-fi finally get its moment? If so, there can be no stronger candidate than China Miéville, one of those rare writers who's managed to escape the confines of "genre" fiction.
GILLESPIE AND I by Jane Harris
HALF OF THE HUMAN RACE by Anthony Quinn
THE LONDON TRAIN by Tessa Hadley
THE GOOD MUSLIM by Tahmima Anam
A SUMMER OF DROWNING by John Burnside
THE FREE WORLD by David Bezmozgis
.
Check back on Wednesday to see how wrong we were. And in the meantime here are last year's longlist and shortlist.
_____________________________________________________________________
Want to know what the critics made of the latest book, film or play? The Omnivore rounds up newspaper reviews, bringing you a cross section of intelligent opinion.