Hot off the Press: That Used to Be Us
23/09/2011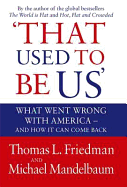 What's it about?
How America lost its superpower status and what it can do to get it back.
Who's it by?
Thomas L Friedman (Pulitzer-winning New York Times columnist and author of The World is Flat) and Michael Mandelbaum (Professor of American Foreign Policy at John Hopkins University).

What do they say?
Friedman and Mandelbaum distil America's crisis into four main problem areas:
Lack of focus since the end of the Cold War, and especially since 9/11.
Chronic failure to address problems in education (49% of American adults do not know how long it takes the Earth to revolve round the sun) and energy consumption (dangerously dependent on deficit funding from China and oil from the Middle East).
Traditional links between investment, industry and innovation have broken down.
Deep political hostilities mean no consensus on key issues.
Do they have any bright ideas?
A credible third-party presidential candidate (a la Ross Perot)  to galvanise the "radical center".
That's about it
Is it worth reading?

YES
'[An] expert, stirring dose of polemic and dismaying research … this book is daunting because it doesn't only apply to superpower America but to shrunken-power UK. Much the same diagnosis; much the same lack of real remedies…' Peter Preston, Observer
NO
'Undoubtedly there are vast political problems in America, but [the authors] have not really identified what they are, and their cures are banal in the extreme … The narrative voice is jarringly corny, full of homespun wisdom imparted to "Tom" or "Michael" by their wives, or waitresses who bring them coffee. The narrative style, and the ultimate upbeat message that America can conquer its demons, fly in the face of the evidence the authors present, and seem designed to ensure they are invited onto network television to promote this book.' Stephen Robinson, Sunday Times
Read all reviews for THAT USED TO BE US
____________________________________________________________________
Want to know what the critics made of the latest book, film or play? The Omnivore rounds up newspaper reviews, bringing you a cross section of critical opinion. Sign up to our newsletter.