Hatchet Job of the Day: Park Lane
14/06/2012
Frances Osbourne's PARK LANE was savaged by Julie Burchill in the Observer: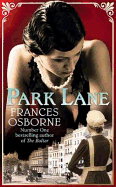 Though I am a modern chav and Mrs Osborne an old-fashioned posho, I must say I winced in a manner that would have made FR Leavis proud as I took in, cross-eyed with sheer molten outrage, the first line of this book: "Grace can just see the bedroom door handle ahead of her." Maybe I'm just a middle-aged fuss-bucket, but I hate the present tense used in any representation of history, be it fact orfiction. And it doesn't get any better – the style is vile; unlike her pasty-persecuting, pensioner-pinching spouse, Mrs Osborne is far from prudent with her resources and rarely uses one word where a hyphenated-horror will do. Door handles are "night-cold and turnip-big", invariably leading to "weigh-a-ton curtains".
____________________________________________________________________
Want to know what the critics made of the latest book, film or play? The Omnivore rounds up newspaper reviews, bringing you a cross section of critical opinion. Sign up to our newsletter.